Quick Resources for #FreeNeko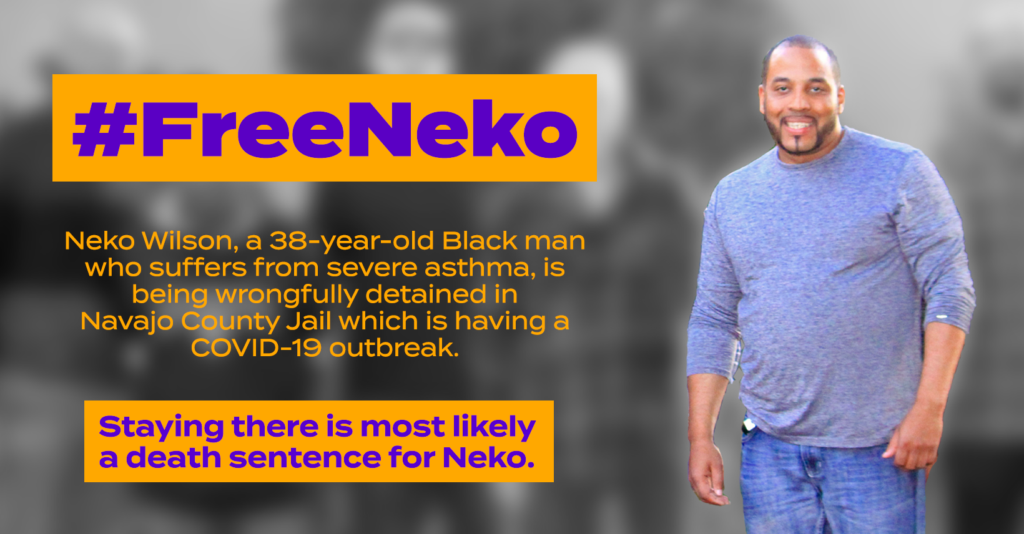 Neko Wilson, a 38-year-old Black man who suffers from severe asthma, is being wrongfully detained at Navajo County Jail which is having a COVID-19 outbreak.
We are demanding that Navajo County officials release Neko to home confinement where he can receive the medical treatment he desperately needs while his probation case is resolved or until the public health crisis is over.
Ways to help:
Please sign our petition and share the word on social media
You can use our social media toolkit to copy-and-paste posts and graphics here.
—
Here is Neko's story:
In 2003, Neko Wilson was subject to a questionable traffic stop in Navajo County, Arizona, where he was arrested for transporting marijuana. In 2006, Neko was placed on four years of probation for this marijuana offense.
In 2009, Neko was arrested for his involvement in planning a robbery and spent 9 years and 2 months in a California jail awaiting the trial. He ultimately pled guilty to the charges rather than fight his case and since his pre-trial detention was so long, he was  released to time served. 
The day after Neko was released from a California jail, the state of Arizona decided to resurrect the decade plus old marijuana case and issued a warrant for his arrest. They said he violated his 2003 marijuana case by being arrested in 2009. At that time in 2009, Arizona should have issued an all states warrant, but did not.
If they had, Neko could've served time for both cases concurrently. Instead, he was forced to turn himself in to the state of Arizona and he's been wrongfully placed in pre-hearing detention at Navajo County Jail without bail ever since.
This is dangerous because Navajo County has experienced the highest rates of COVID-19 in the United States. Reports from inside the jail detail people with serious symptoms of COVID-19, along with horrifying living conditions with no medical treatment.
Staying there is most likely a death sentence for Neko.
Neko made mistakes in his life but he paid his debt to society and has been a good citizen for more than 10 years.
That's why we are demanding that Navajo County Superior Court Judge Robert Higgins and Navajo County Assistant District Attorney Joel Ruechal free Neko so he can be released to home confinement and receive the medical treatment he desperately needs while his probation violation case is resolved or until the health crisis is over.
—
Here are some articles to learn more about Neko's story: